Large candelabra 19è century bronze silver 7 candlesticks old rare gothic spirit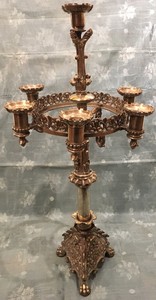 ---
Grand chandelier en bronze argenté comportant 7 bougeoirs.

Base à décor de têtes, entrelacées de branchages, feuillages et fruits.

Trois pieds "patte de lion".

Très belle pièce d'esprit gothique d'époque 19ème.

Marque sur la terrasse: Poinçon? (Voir photos).

De petits trous dans les bobèches et la bague médiane du support font penser qu'il pouvait y avoir des décorations ajoutées (Hampes ?) leur absence n'altère pas la valeur esthétique de ce très beau candélabre 

Hauteur: 63 cm

Bel état, Usures d'usage (l'argenture est de très belle qualité, bien présente et équilibrée sur toute la surface).

Poids important justifiant les frais d'envoi, emballage sécurisé compris.

Merci de regarder attentivement les photos qui font également état de descriptif.

Si vous êtes intéressé par cet objet, merci de marquer rapidement votre intérêt en posant une enchère, en formulant une offre ou en prenant contact par mail, cet objet peut-être en vente sur d'autres supports et peut donc être retiré avant son échéance.

ENVOI POSSIBLE EN MONDIAL RELAYProfil d'évaluation 0: Merci de me contacter avant d'enchérir.The foreign buyers are welcomeFor the destinations outside Europe, please contact me to know the shipping costVous achetez des objets anciens, d'antiquité et brocante, d'occasion.Les détails et mentions sont ceux de l'annonce, je suis à votre disposition pour répondre à vos questions par mail, n'hésitez pas à demander plus de photos.L'emballage sera particulièrement soigné (film à bulles, protections maximales …) et communication de suivi postal à chaque étape de votre commande.Le prix d'envoi tient compte du temps et du matériel qui sont nécessaires à l'envoi sécurisé de l'objet ainsi que l'assurance souscrite au moment de l'envoi. Je ne peux être tenu responsable en cas d'avarie de la poste. Il faut notifier tout problème dès réception au facteur. Dans ce cas seulement les assurances fonctionneront, aucune réclamation ne sera reçue si cette condition n'est pas remplie .Merci et Bonnes enchères!
Please take a closer look at pictures that also feature descriptionsIf you are interested in this item, please quickly mark your interest by bidding, making an offer or making contact, this object can be for sale on other supports, this announcement may therefore be withdrawn prior to its expiry.Payment by paypal.The foreign buyers are welcome.For the destinations outside Europe, please contact me to know the shipping cost.You buy antiques, the details and mentions are those of the announcement.I am at your disposal to answer your questions by mail, do not hesitate to ask for more photosThe packaging will be particularly careful (bubble film, maximum protections...) and communication of postal tracking.Please do not accept your package if it seems damaged outside when you receive it. Insurances don't work if you don't signal it to the postman.Thank you and good biddings!